The Pittsford Chamber of Commerce Candlelight Night will soon be here! This annual family-fun tradition is Tuesday, December 6 from 5:00 – 8:00pm in the Village of Pittsford. It's a perfect way to start to the holiday season! Village businesses will be open for the evening and join us for horse-drawn carriage rides, visits with Santa, live reindeer, alpaca, the Grinch, Mrs. Claus, and more will make this a festive evening! Please note that South Main Street will be closed between the Four Corners (Main and State Streets) and Church Street to accommodate pedestrians and activities.
Kid's activities take place at the Kid's Zone in Northfield Common with an obstacle course, archery and face painting. Sounds of carolers will fill the streets with the thrill of the season. Merchants welcome you with treats and specials throughout the night. Dine at one of several food trucks or local restaurants. 
Mrs. Claus will stop by the Historic Pittsford Little House (18 Monroe Avenue, next to the Pittsford Fire Station) from 6:00 – 7:00pm to greet the kids!
The Pittsford Community Library will offer a a children's craft from from 5:00 – 8:00pm, a holiday concert 5:30 – 6:30pm and a live jazz trio from 7:00 – 8:00pm (find details at the Library's online calendar) and the Friends of Pittsford Community Library will be holding a holiday book sale at the Library; find book sale details at www.pittsfordlibraryfriends.com/booksales. 
The Friends of Pittsford Community Library holiday book sale will take place at the Library from 10:00am – 7:00pm. This year the Library Friends also are raffling off an American Girl doll, "Melody" – she is valued at $110! Raffle tickets will be sold at the book sale for $2.00 each or $5.00 for three tickets. The drawing will be held at 7:00pm; if not present, the winner will be contacted. All proceeds raised from the book sale and raffle will support programs and materials for our Library. Please stop by and do some shopping if you can! The Pittsford Community Library is located at 24 State Street. Please find details at www.pittsfordlibraryfriends.com.
Stop by the tent in front of Town Hall for complimentary cookies!
Tree lightings will take place at 5:30pm (Main and State Streets), 6:00pm (Schoen Place at Ted Collins Pavilion) and 7:00pm (Northfield Common).
And be sure to enjoy the live music from JUMBO SHRIMP at Northfield Common from 5:00-8:00pm.
The Candlelight Night Pub Crawl takes place from 5:00 - 8:00pm – see more details below.
See the Candlelight Night 2022 map and the Candlelight Night 2022 brochure for a complete list of all activities information and locations.
(Click on the image below for more information)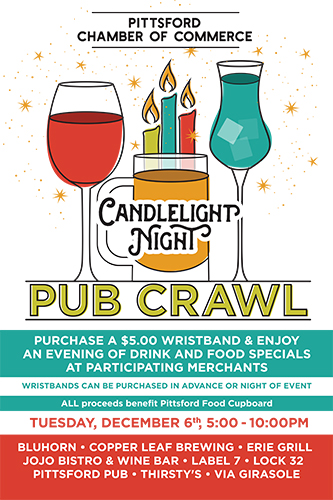 For the 21 and over crowd, the Chamber's 7th annual Candlelight Pub Crawl will take place in Pittsford Village as well. Proceeds from the event will benefit the Pittsford Food Cupboard. Toast the season with a "spirited" stroll through your favorite local pubs, with featured cocktails and hors d'oeuvres! The event begins at 5:00pm; participants can follow the route in any order. Featured establishments include new and old Pittsford favorites: the Erie Grill, Pittsford Pub, JoJo Bistro & Wine Bar, Via Girasole, Lock 32, Label 7, Copper Leaf Brewing, Thirsty's, and BluHorn Tequilaria. These great local establishments will be offering discounted specials for those who purchase a $5 wristband; all proceeds from wristband sales benefit the Pittsford Food Cupboard. Wristbands can be purchased at the Chamber info tent on South Main Street or at any participating location. It will be the perfect night for shopping, dining, and enjoying holiday treats under the twinkling lights!
Visit the Pittsford Chamber of Commerce website at www.pittsfordchamber.org for more details as the date approaches, and look for updates on the Candlelight Night Facebook page at www.facebook.com/PittsfordCandlelightNight/.
(Click on the image below for more information)