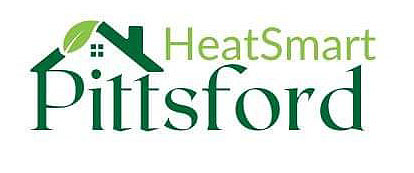 A partnership between the Town of Pittsford, Color Pittsford Green, and HeatSmart Monroe-Finger Lakes
Make your home more energy-efficient and your community more sustainable – Heat Smart Pittsford can  show you how!
Volunteers from Color Pittsford Green are working with HeatSmart Monroe-Finger Lakes and the Town of Pittsford to spread the word about clean heating and cooling technologies through our Heat Smart Pittsford community outreach and education campaign. We're collaborating to help make Pittsford homes more energy-efficient and less dependent on fossil fuels. Adopting sustainable practices like improved insulation and air-sealing and using affordable heat pump technology can enhance indoor air quality, decrease negative impacts on the environment and can lower your energy costs.
By offering a series of learning seminars we hope to help at least three Pittsford homes make energy efficient upgrades. In doing so, we will earn the Town a $5,000 grant for sustainability projects and 500 points toward Clean Energy Community status in NYSERDA's CEC program.
Get started:
Attend a community presentation and connect with our HeatSmart advisor Matt Corona
Schedule a free, no-obligation home energy assessment
Receive a free report on your current home heating demands and options for sustainable improvements, including home insulation/air-sealing improvements and/or a heat pump system
Taking action now will help make the Pittsford community cleaner, greener and more sustainable long into the future.
Register for the next workshop here: https://heatsmartflx.org/pittsford.
This learning series will cover:
What a heat pump is, how it works
Making a home heat pump ready
Available incentives from state and federal level
Vetted local contractors
Upcoming dates:
6/30/22 @ 7pm
9/28/22 @ 7pm
7/31/23 @ 7pm

Sign up for HeatSmart Monroe-Finger Lakes directly HERE.
No charge and no obligation associated with enrollment
Receive a no-cost energy assessment of your home or business
Unbiased advice and guidance from a HeatSmart expert
Vetted installers waiting to help after you take the first step
Up to date information on local, state, and federal incentives
HeatSmart Monroe/HeatSmart Finger Lakes Campaign Managers:
Bree-Ana Dukes
Residential Energy Advisor, Climate Solutions Accelerator
breeana@ClimateGFL.org | HeatSmartFLX.org
585-445-3248
Brett Peters
Commercial Energy Advisor, Climate Solutions Accelerator
brett@ClimateGFL.org | HeatSmartFLX.org
(585) 445-3239

HeatSmart is a NYSERDA funded clean heating and cooling education campaign managed by the Climate Solutions Accelerator of the Genesee-Finger Lakes Region; it offers information and guidance about the technologies, grants, financing and implementation choices for electric-based, sustainable heating options.