Summer Reading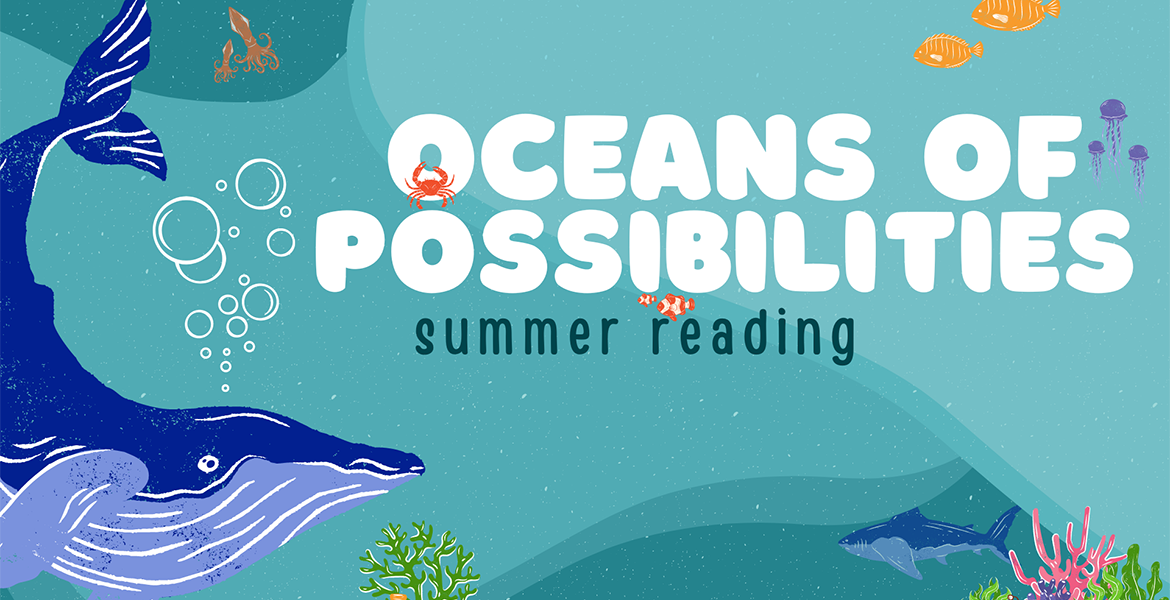 Oceans of Possibilities
Games for children in preschool and up, teens, and adults are available virtually on Beanstack.
Early Literacy Summer Game

Babies & Toddlers: Ages 0 – 3
Registration starts June 13
This fun ocean summer program is designed just for babies and toddlers ages 0 to 3. It runs from June 27 through August 12, and is designed to get them (and you) singing, laughing, and learning. Pick up a game board starting June 13 to join the fun. This summer program is NOT offered virtually.
Children's Summer Reading Game

Entering Pre-K - 5th grade
Registration starts June 13
This summer help create an underwater world of wonder! For each week completed, participants get a different sea creature to decorate. Once returned, we will hang the ocean creature creations in the Children's Room for all to see. And don't forget—there are prizes, too! Earn a prize each week you read at least 120 minutes.
Participate in the game either virtually or in person. To play virtually, register at pittsfordcommunitylibrary.beanstack.org. To play in person, pick up a registration packet at the library. The first turn-in day for prizes is June 27. Pick up prizes at the library each week, or once at the end.
Teen Summer Reading Game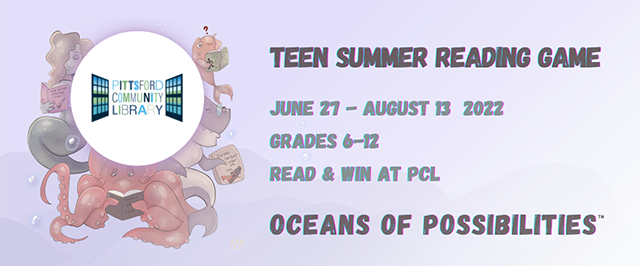 Teens: entering sixth – twelfth grade
Oceans of Possibilities™ Teen Summer Reading
Win prizes during PCL's Teen Summer Reading Game! Anyone entering grades 6-12 can register, and everyone registered has a chance to win. Play the game June 27 through August 13.
Win By Reading
Earn a raffle ticket every time you finish a book. If you read two books and enter two tickets, you'll get to pick a book to keep as a prize. If you complete the reading portion of the challenge by earning seven reading badges, you'll receive a second prize book.
Win By Playing Bingo
Pick up or download a bingo board and complete activities. Finish one row and receive five raffle tickets, or finish the whole board and receive 25 raffle tickets and a small prize from our prize bin. Boards are due by August 13 at the Second Floor Reference Desk.
All prizes can be collected at the Second Floor Reference Desk beginning August 16. Happy Reading!
Adult Summer Reading Game

Adults: Age 18+
Summer reading is getting started, which means it's time to complete challenges through our adult summer reading game! Read, watch, and listen throughout the summer to be entered to win a grand prize. Participate online or in person, and dive into this year's theme, Oceans of Possibilities™, through events for readers of all ages! This challenge starts June 27 and is open to adults ages 18 and over. No registration required.